The Annual RemTech Show was held in Ferrara, Italy on September 18-20,2019. That event is among the well-recognized European Exhibition where the modern innovative technologies, apparatus, supplemented techniques related to remediation of soil and water are introduced for the professionals, firms and broad public. Within the show the International conference RemTech Europe was organized by ISTRA-Italy, Italian Ministry of the Environment and Environment Protect Agency of the province Emilia-Romana. The questions related to soil and ground water remediation; sediments and diffuse pollution, ecological and health risk assessment were among priorities of this year event. Prof. Valentina Pidlisnyuk, UJEP was invited to present the results of NATO project with the reports: "Miscanthusxgiganteus phytotechnology application at the military sites" and "The biomass production of Miscanthusxgiganteus in TPH contaminated soil in Ukraine". While at the conference she also visited the demonstration site of the firm Sensatec GmbH, Germany where the innovative apparatus for quantitate monitoring of soil contamination by metals and oil products was introduced. That equipment permitted to detect pollutants in the soil up to 50 m deep with simultaneous detection of the pollutants nature. During RemTech Europe prof. Pidlisnyuk had a meeting with Dr.Massimon Zacchini, Research Institute of Terrestrial Ecosystems (IRET-CNR), Italy; Dr.Jussi Reinikanen, Finish Environmental Institute, Finland; Dr.Frank Swartjes, National Institute for Public Health and the Environment, The Netherland; Dr.Natalia Rodrigues Eugenio, Food Agricultural Organization, UN.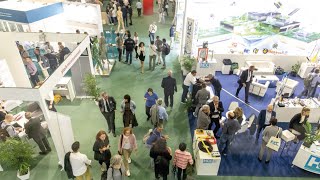 E' arrivato il video report di RemTech Expo 2019! Tre giornate, intense, bellissime, tanti autorevoli protagonisti, imprese, autorità, speakers, esperti, conferenze, approfondimenti, tavoli di confronto, stati generali, ospiti, internazionalizzazione, awards, progetti di ricerca, workshop, incontri tecnici, live demonstrations, networking colto. Questo è stato RemTech Expo 2019. Guarda subito il video!
"E' stata un'edizione straordinaria, ricca di novità, innovazione, azioni, progettualità presenti e future". Arrivederci a RemTech Expo 2020!
RemTech Expo 2019 video report has arrived! Three days, intense, beautiful, many authoritative protagonists, companies, authorities, speakers, experts, conferences, insights, discussion tables, general states, guests, internationalization, awards, research projects, workshops, technical meetings, live demonstrations, cultured networking. This was RemTech Expo 2019. Watch the video now!
"It has been an extraordinary edition, rich of news, innovation, actions, present and future projects". See you in RemTech Expo 2020!
illustration of the equipment for soil quantative analysis by Stephan Huttmann